The President Nixon Phenomenon
When The Investigation Causes, Or Exposes, More Misconduct Than The Initial Act Of Misconduct
Many in this country hold the opinion, that the direct cause of President Richard M. Nixon's downfall was the Watergate break-in.
Our (VolusiaExposed) opinion differs slightly - we believe that it was not the actual break-in, but rather, the Watergate cover-up that brought down the Nixon presidency.
Nixon had his (18) minutes of missing audio tapes
, and VolusiaExposed.Com has become aware of the Volusia County Sheriff Department's (84) eighty-four missing seconds of courthouse surveillance video
(see pages 4-5 of IA report)
.
The cover-up itself, is usually more controversial than the original misconduct.
The missing VCSO surveillance video is attached to a closed and sustained "excessive use of force
with injuries
" investigation against VCSO Deputy, Terry Laloo. -->
Deputy Laloo was found to have used excessive force against Volusia County jail Inmate Eddy Rios.
VolusiaExposed believes that those (84) seconds of missing surveillance video, are as damning to the VCSO's credibility, as the (18) minutes of missing audio tapes were to Nixon's credibility. Especially given the fact that the VCSO doesn't appear to be very concerned about it.
(READ THE REPORT, Especially Pages 4-5 ---------->)
In law enforcement, you either have credibility - or you don't - there are no gray areas. And yes, one or two bad apples in a department can cause the entire department to lose it's credibility, especially if the administration of that department in any way negates, or attempts to deflect the ramifications of those officers' misconduct. In that instant, the cover-up, or police administration spin, regarding the initial misconduct, become more of an indictment on the entire department, than the initial misconduct could have ever been.
Questions For Our Readers
Given that the VCSO sustained that Deputy Laloo used excessive force - should his employment with the VCSO been terminated? And, does his continued employment cause you concern, on whether the VCSO has a proper level of tolerance regarding excessive use of force?
Excessive Use Of Force Equates To
Officer Moral Character Violation
Florida law defines, and sets
acceptable moral character standards (FAC11B-27.0011)
for both correctional and law enforcement officers.
Excessive use of force
IS
a defined moral character violation - that must be reported to the Florida Department of Law Enforcement.
Due to the VCSO sustaining Deputy Laloo's use of excessive force, he was demoted - but is still employed within the VCSO.
Evidence Lost
While Deputy Laloo was demoted - this was an administrative action by his employer. Imagine just for a second, that Inmate Rios had taken Deputy Laloo up on his apparent invitation to fight him, would Rios be facing additional criminal charges for battery on a law enforcement officer - you bet he would !
However, given the fact that the surveillance video has been "lost" - VolusiaExposed doesn't anticipate any criminal charges being filed against Deputy Laloo, and in the end, maybe that was the rationale for the missing video.
Was the Laloo "investigation" more of a cover-up, with the goal to negate any possible criminal prosecution of Deputy Laloo - than it was a fact finding exercise, in determning whether one deputy had violated the law enforcement moral character standards of Florida?
Why Is All This So Important?
How Credible Are VCSO Internal Investigations?
Inmate Eddy Rios received only minor injuries connected with Deputy Laloo's application of force. However, there are currently two other use of force investigations on-going within the VCSO. Unlike the completed and sustained Laloo investigation, these other investigations include the application of deadly force by VCSO deputies - two men died by VCSO gun fire (Miller & Cruice).
EDWARD P. MILLER


1962-2014
During the afternoon hours of Saturday, September 20, 2014, Volusia County Sheriff Deputy Joel Hernandez shot and killed Port Orange resident,
Edward P. Miller, 52
. Sheriff Ben Johnson told reporters that Deputy Hernandez shot and killed Miller, after the deputy observed Miller "brandishing a firearm".
Mr. Miller was deaf, and he had a concealed weapon permit. Further, the deputy that approached and killed Mr. Miller was
NOT
in uniform.
DEREK CRUICE


1989-2014
Facebook - Justice For Derek Cruice
And sadly this week (March 4, 2015), Mr. Cruice's life was also cut short by VCSO gun fire, because he allegedly "advanced" on a sheriff deputy, while several deputies were attempting to serve a search warrant.
Cruice's family and friends hold the belief that the VCSO murdered him.
The Cruice and Miller families have been assured by Sheriff Ben Johnson that there will be VCSO investigations into these shootings. However, VolusiaExposed wonders if evidence also will be "lost" in these investigations - as it obviously was in the Deputy Laloo investigation.
Click Image To Review Media Article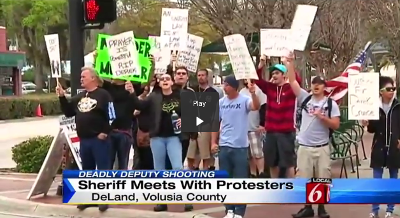 Our Newest Brady Cop
Due to Deputy Laloo's sustained moral character violation - VolusiaExposed has added him to
our list of Brady Cops
.
Our public record request
to the VCSO for additional records on Laloo, had not been answered, as of the posting date of this article (March 9, 2015).
Stand by to stand by - more to come.....