Governor Rick Scott Appoints Volusia County Court
Judge Steven Henderson To The Seventh Judicial Circuit




Updated
November 28, 2017

"It is the spirit and not the form of law that keeps justice alive." - Earl Warren

In a November 27, 2017 press release - Governor Rick Scott announced the appointment of Volusia County Court Judge Steven Henderson to the Seventh Judicial Circuit. Judge Henderson will be replacing Circuit Court Judge Kellie Miles who died last summer.

Last September - Judge Henderson - along with applied to replace Judge Miles to the .

On October 3 & 5, 2017, VolusiaExposed.Com attended and video recorded the JNC vetting / interviews of all twenty-five (25) judicial applicants.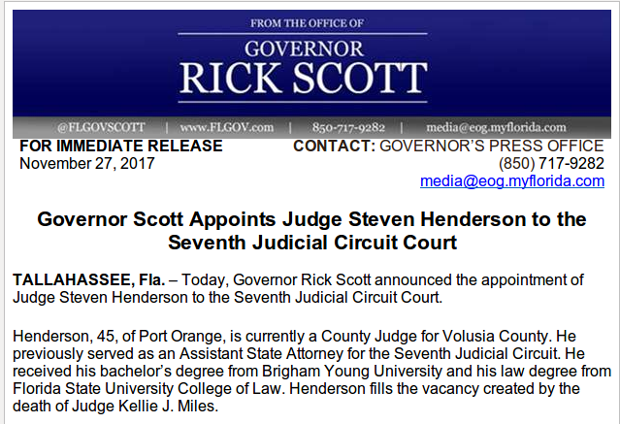 The JNC narrowed the list of judicial candidates to . Governor Scott selected Judge Henderson for the Circuit Court appointment from this list of nominees. (see right of web page) --->

The staff at VolusiaExposed.Com wishes Judge Henderson all the best in his appointment to the Circuit Court - and we encourage most of the other judicial candidates to re-submit their JNC applications for Judge Henderson's soon to be vacant County Court seat.

We encourage our readers to review the judicial applications of the six (6) nominees that were forwarded to Governor Scott - and to watch those nominees' interviews with the JNC.

(see below videos and JNC application links)


"Man is least himself when he talks in his own person - give him a mask and he will tell you the truth" ~ Oscar Wilde
VIDEOS OF THE JNC NOMINEES INTERVIEWS HAVE BEEN PROVIDED BELOW.
| | | |
| --- | --- | --- |
| Daniel Hilbert | Steven C. Henderson | Mary Ellen Osterndorf |
| | | |
| --- | --- | --- |
| Sebrina L. Slack | Alexander Alvarez | Alicia Washington |
We look forward to your comments on this situation.
Drop us a line to let us know what you think.


EMAIL US