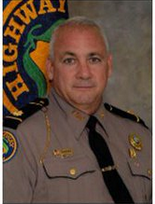 Lt. Colonel Michael J. Thomas
The second-highest ranking officer in the Florida Highway Patrol is stepping down after acknowledging he wrote a May 31, 2017 email encouraging troopers to issue at least two tickets per hour.

Lt. Colonel Michael J. Thomas submitted his August 28, 2017 resignation letter -
effectively taking early retirement as of September 1, 2017.
For several years - the Florida Highway Patrol has been hounded with allegations that troopers were expected to meet quotas in the issuing of traffic tickets.
In his lengthy resignation letter - Thomas blames the
"bad publicity"
- connected to allegations that the FHP maintains a ticket quota system - as the catalyst for his early retirement. Thomas acknowledged that his May 31st email could have been "interpreted" that he was encouraging a ticket quota of two tickets per hour. Thomas called his email a
"grave error"
- indicating that the FHP does not use a ticket quota system.
FHP Colonel Gene Spaulding stated -
"Although Lieutenant Colonel Thomas' emails were sent with the intention of ensuring accountability of our members and providing enhanced public safety, it was inappropriate to request a specific number of citations from our members. FHP does not set quotas as part of its mission, therefore I have accepted Lieutenant Colonel Thomas' request for early retirement. Lieutenant Colonel Thomas served honorably in the United States Navy and dedicated more than 30 years to serving the state of Florida. His dedication and commitment to the Florida Highway Patrol and the state of Florida will not be forgotten."
VolusiaExposed.Com has provided Lt. Colonel Thomas' resignation letter and his May 31, 2017 email - see right of this page --> (scroll down within the scroll box to view the email).
FLORIDA HIGHWAY PATROL SECOND IN COMMAND
LT. COLONEL MICHAEL J. THOMAS RETIRES EARLY OVER TICKET QUOTA SCANDAL
(Scroll Down Within Box To Review Entire Document)
Click Here To View Letter In PDF Format